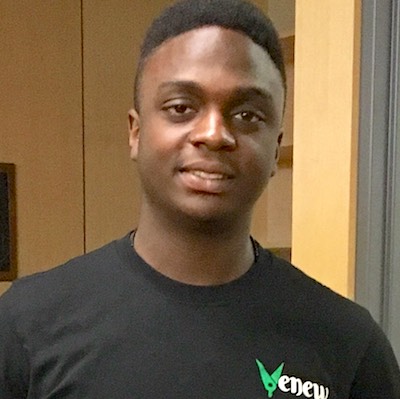 I founded Venew whilst in college. Prior to launching the app Beta in May 2017, I had worked on the Marketing, Branding & Development of the platform. I spearheaded the first release of the app on Android and iOS and led the Sales. Venew won the 2017 Gustavus Entrepreneur Cup and reached the Semifinals of the 2017 Minnesota Cup (Students Division). I have been in charge of the branding, marketing sales and development of the platform till date.
Before founding Venew, I worked along with other students for the Campus Residential Life Services of my college, hanging posters around the large residences on campus. Five of us, all students, spent at least 10 hours weekly hanging these posters. The position was later discontinued, and the five of us lost our jobs. What seemed like a problem actually presented an opportunity. I had come to realize that there was a gap in event promotion. The promoters were relying heavily on a dated medium, paper flyers, to connect with students that were more online than off it. Apart from that, promoters were unable to connect with the students and give them a better understanding of their upcoming event. I also worked on the side of organizations, promoting events for some of the organizations I was a member of, it then became clear that the process of sharing and finding events wasn't as effective as could be. Venew was designed to bridge the gap between event organizers and students on college campuses by empowering them to reach out to more students better and faster than before.
I headed an alpha launch on 4 campuses and a partnership with two campuses.