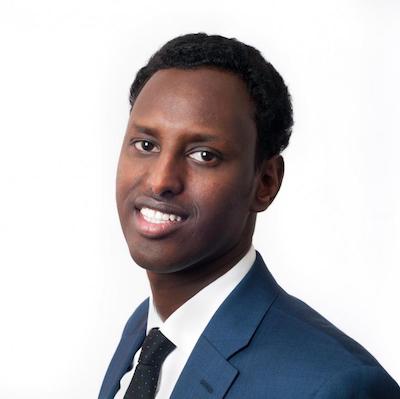 Co-founder & Executive Vice President
Hamse Warfa works at the intersection of community building, philanthropy and social entrepreneurship for over the past 20 years. He is deeply passionate about rewriting and changing the social and economic 'rules' and systems that marginalize and exclude people from opportunities to live their lives with dignity.
Hamse is the founder and Principal of Tayo Consulting Group LLC (TAYO), a professional services firm comprised of cross-sector experts with deep experience in human development and poverty solutions. TAYO  and Hamse as the principal convener and facilitator has served as the incubating organization for the Coalition of Somali American Leaders, which exists to cultivate leadership effectiveness, increase community and community based organizations' capacity building, facilitate intercultural exchanges and to mobilize resources to support Somali Americans in Minnesota's globalized society and traditions. More broadly, Hamse leads community cohesion initiative, Sambusa Sunday, which has now been globally replicated as well as a media narrative change initiative, Rumee, a community-driven, interactive multimedia platform that is working towards a new paradigm shift in popular culture and media representation practices, from a paradigm that privileges and rewards mainstream (mostly white) as the principle storytellers to interrogate power and create empathy and systems change on behalf of marginalized communities of color, towards a new paradigm that taps into the robust lived experiences of storytellers of color from marginalized communities and positions them as experts, lead producers, writers, and directors to drive critical conversations.
Hamse is also the co-founder and Executive Vice President of BanQu, an MIT Innovation award winner, software technology company working to eradicate poverty by connecting the unbanked to the global economy through a secure, portable digital economic identity that allows economically marginalized people including refugees and the displaced to access markets and financing opportunities. BanQu was recognized by the Obama administration as a leader in its field and invited it to the 2016 White House Leaders' Summit on Refugees.
Prior to launching his social enterprises, Hamse served as a Senior Program Officer with Margaret A. Cargill Philanthropies managing the foundation's global and domestic children, families and health grants. Previously, Hamse served as a Senior Program Officer managing a diverse portfolio of grants at Alliance Healthcare Foundation, a San Diego-based foundation working to improve access to health & healthcare for underserved communities.
In 2008, Hamse founded the Institute for Horn of Africa Studies and Affairs (IHASA), an organization that utilizes research and advocacy as a strategy to reduce the persistent violence in the Horn of Africa region while providing accurate information on the socio-economic and political situation of the region and the African Diaspora.
As a system thinker, Hamse brings his collective impact leadership thinking into practice for all of his work including his community leadership board services. He currently serves on the board of Minnesota Comeback, a coalition of more than 80 schools, community partners and funders coordinating around K-12 systems change so all students, particularly students of color can access great schools and quality education that improve life chances for young people. Knowing the impact of stable housing on educational outcomes from a personal experience, Hamse also is on the board of CommonBond, Midwest's largest nonprofit provider of affordable housing with supportive services.
Hamse's volunteer leadership work includes globally-recognized peacebuilding efforts, which has huge positive implication for Minnesota, especially given the current, painful dynamics between police and people of color. He is a special advisor for the Rewiring the Brain for Peace initiative, which explores one of the newest frontiers of the peacebuilding field, tapping into a resource that has so far been under-mobilized – the capacity of the human brain to resist violence, make conscious change, and choose peace. The project researches and documents the ways in which individuals and communities mobilize their own spiritual resources to move away from forces such as fear, separation and violence.
Hamse's leadership work has been recognized locally and globally through leadership awards and as a sought-after speaker and trainer. In 2016, Hamse was named a Bush Foundation Leadership Fellow based on his record of achievement and extraordinary potential to make significant contributions in reducing the opportunity gap. In March of 2017, Hamse (along with Senator Al Franken) was the recipient of Lutheran Social Services' Movement of Hope and Vision Award for 2017. Previously, Hamse was recipient of San Diego ABC News Affiliate, Channel10's leadership award of the year as well as San Diego's '40 under 40′ leadership award.
Hamse is a part-time doctoral candidate for Public Administration at Hamline University. He earned a B.A. in Political Science at San Diego State University and an M.S. in Organizational Management and Leadership at Springfield College. Hamse holds graduate-level certificates in Foundations of Conflict Analysis and Preventing Deadly World Conflicts from the United States Institute of Peace, a congressionally funded institution working to prevent and end conflict. Hamse is fluent in English and Somali.
Hamse brings the unique experience of being displaced by war as a child, living as a refugee in East Africa and immigrating to the United States. Born in Somalia, Hamse escaped Somalia's civil war and spent three years living in Kenyan refugee camps before moving with his family to the United States in 1994. Arriving in the U.S. with no knowledge of English, Hamse undertook the arduous journey to adapt and thrive in mainstream American culture. He documented his experiences in America Here I Come: A Somali Refugee's Quest for Hope (Sunshine Publishing, 2014). His zeal to turn adversity in his life into growth opportunities for others is a direct result of these experiences. Hamse's personal story is included in The TRY: Reclaiming the American Dream(New York: Skyhorse Publishing, 2010), which tells of ordinary people who overcome adversity to accomplish extraordinary goals.